2012
LA DICHOSA MARABUNTA ( ...SE SOLTÓ BIEN DULCE)
INTERVENTION
__________________________________________________________
2012 PICNIC SESSIONS. CA2M MADRID, SPA
La Dichosa Marabunta... se soltó bien dulce (The Blessed/Damned Crowd... loosen pretty sweet)
is the first of a serie of gang invasions at institutions... the gang understood as an effort made by youngsters in order to create a society for themselves, there were does not exist one suitable for their needs; collectives that exceed, reject, margine, confront or trascend the institutional culture. At the Picnic Terrace we will hang on the loose (pretty sweet)
La Dichosa Marabunta
, where the audience will be able to exchange their clothes and form an spontaneous and urgent crowd, a gang which colors and main motto is shaped by art, boot and rally and boogaloo itself.
.
La Dichosa Marabunta...
es una intervención que inicia una serie de invasiones pandilleras en instituciones... La pandilla entendida como un esfuerzo espontáneo de los muchachos por crear una sociedad para sí mismos, allí donde no existe ninguna adecuada a sus necesidades; colectivos que reba-san, rechazan, se marginan, se enfrentan o trascienden la cultura institucional. En la terraza picnic soltaremos (bien dulce)
La Dichosa Marabunta
, donde el público asistente intercambiará sus ropas y formará una pandilla espontánea y urgente, una gang cuyos colores, lema y prinicpal motto viene dado por el arte, el despiporre y el bugalú en sí mismo.
2011
PUNTO DE FUGA
VIDEO INSTALLATION
__________________________________________________________
2011 GALERIAS. LA CÁRCEL CENTRO DE CREACIÓN SEGOVIA, SPA



Punto de Fuga
-Vanishing Point-, an intervention project at Segovia City Prison, deals with the portrait of jailbreak, taken the concept of escape as an universal state of mind. Through a painted vanishing point in the wall of a prison cell, we create a new figurated space that continues its perspective expandig its physical limits; a dialogue between a real, closed inner space and another dreamt, outer, open and fictional. The video footage also shares its rythm and structure with the fugue as musical composition.
El proyecto de intervención en La Cárcel de Segovia aborda el retrato de la fuga como concepto universal de huída, de estado mental. A través de un punto de fuga pintado en uno de los muros de la propia celda, creamos un nuevo espacio figurado que continúa su perspectiva expandiendo sus límites físicos; un diálogo entre un interior cerrado y real, y otro exterior abierto e imaginado. El montaje de la pieza de video comparte también en ritmo y estructura, elementos de la fuga como composición musical.
2013
ÜBERDROME
INSTALLATION
__________________________________________________________
2013 WHO MAKES EUROPE? MATADERO MADRID, SPA
Über

-from German-. 1.- Over, above. A state or action involving increased elevation or quantity in the physical sense or 2.- Superiority or excess in the abstract.

Drome

-from Greek dromos 1.- A course, racecourse or 2.- A large place for a special purpose.
For most of the european citizens, the perception of our country beyond some success (sports) and/or failures (financial) tends to be linked to a vacational context. Are those weeks a year, when the sun warm us up both when we develop a direct relationship and share a fiction of a country close to a souvenir. Überdrome explores that relationship and its contexts; in how is able to shape behaviors, spaces, even laws to attend that demand and transform ourselves in a theme park on scale in terms of identity.
.
Über

-del alemán. 1. Sobre, encima. Estado o acción que implica elevación o cantidad en el sentido físico. 2.- Superioridad o exceso en sentido abstracto.

Drome

-del Griego dromos 1.- Una carrera. 2.- Un espacio amplio para un próposito concreto.
Para la mayoría de los europeos, la percepción que se tiene de nuestro país más allá de algunos éxitos (depor-tivos) y fracasos (financieros) tiende a estar asociada a un entorno vacacional. Son esas semanas al año, cuando el sol nos calienta a ambos cuando desarrollamos una relación directa y compartimos un país cercano a una ficción a modo de souvenir. Überdrome indaga en esa relación y en sus contextos; en cómo es capaz de moldear comportamientos, espacios e incluso leyes para atender a esa demanda y transformarnos en un parque temático a escala en términos de identidad.
2013 / 15
(RE) FINAL COUNTDOWN
SOUND INSTALLATION 15'26"
__________________________________________________________
2015 WHO MAKES EUROPE? III, GDANSKA GALERIA MIEJSKA. GDANSK, POL
2014 REBOBINE. ART OPEN VIEWS MADRID, SPA
2013 WHO MAKES EUROPE? II, STÄDTISCHE GALERIE BREMEN, GER

We're leaving together, but still it's farewell
And maybe we'll come back, to earth, who can tell?
I guess there is no one to blame, we're leaving ground
Will things ever be the same again?
It's the final countdown, It's the final countdown...

After closing the
Überdrome
Mini Golf Park in Madrid, '(Re) Final Countdown' now is presented as a new soundtrack for the continent, a wake up call from the European's dream; a decadent waltz closer to a funeral march than the stadium anthem it used to be. 'The Final Countdown' is originally a song by the swedish band 'Europe'. Released in 1986, it reached No. 1 in 25 countries enjoying notable popularity in many sports arenas, epic openings, and venues. This new cover for the exhibition presents its lyrics framed in gold and the original sound piece compressed and slowed down at a 33% of its native speed.
.
Después del cierre del parque
Überdrome
Mini Golf en Madrid , '(Re) Final Countdown' propone ahora una nueva banda sonora para el continente, un despertar del sueño europeo; un vals decadente más cercano a una marcha fúnebre que al himno de estadio que una vez fue. 'The Final Countdown' es originariamente una canción de la banda sueca 'Europe'. Lanzada en 1986, alcanzó no. 1 en 25 países disfrutando de notable popularidad en conciertos, concentraciones y demás inauguraciones de carácter épico. Esta nueva versión para la exposición presenta sus letras enmarcadas en oro junto a la pieza de audio original comprimida y ralentizada a un 33% de su velocidad nativa.
2014
WILD HONEY - UNTITLED FILM STILL #96
VIDEO 03'01"
__________________________________________________________
VIDEOPIECE FOR 'UNTITLED FILM STILL #96'
INCL. IN WILD HONEY'S EP 'DEAR CINDY' (JABALINA 2014)
Rather than just taking the title of
Cindy Sherman's
picture as the main aesthetic reference, I tried to imagine situations beyond that portrait numbered as 96; an impossible and surreal list of future and subsequent high number of
Untitled Film Stills
; a narrative sequence apparently meaningless... a strange accumulative choreography of low utility actions, a loop of spasmodic gymnastics. Videopiece made for Wild Honey 'Untitled Film Still #96' included in 'Dear Cindy' (EP Jabalina 2014)
.
Más que tomar la fotografía de
Cindy Sherman
que da título a la canción como su referencia estética principal, se jugó a imaginar situaciones más allá de aquel retrato de núm. 96; una lista imposible y surreal de
Untitled Film Stills
posteriores y de números elevados que fueran trazando una narrativa de secuencias sin aparente sentido… una extraña coreografía acumulativa de acciones de baja utilidad, un loop de gimnástica espasmódica. Video realizado para Wild Honey 'Untitled Film Still #96' incluído en 'Dear Cindy' (EP Jabalina 2014)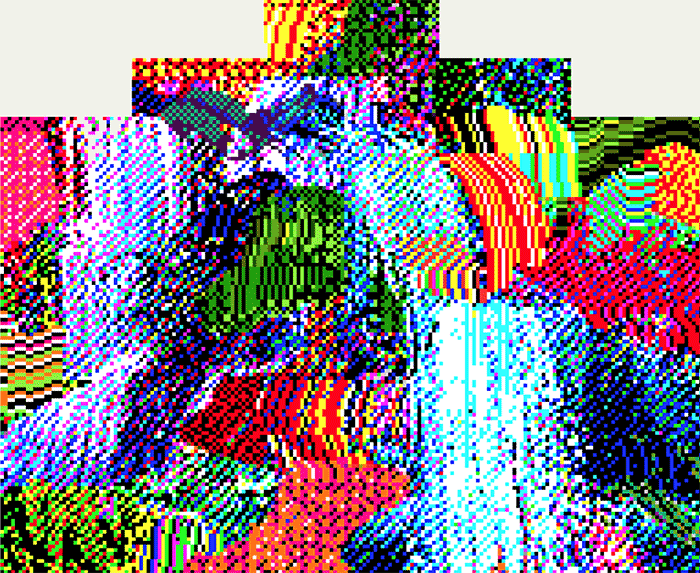 2014
DIGITAL VERTICAL GARDENS
VIDEO INSTALLATION
__________________________________________________________
2014 MINI. MEDIALAB PRADO DIGITAL FACADE MADRID, SPA
Series of Digital Vertical Gardens; a pixelized and animated recreation of nature or a digital mirror for the "real" vertical garden located at CaixaForum exhibition space; a conversation between spaces in front of the square at MediaLab Prado. A daily nightfall for an event during the month of February.
.

Serie de Jardines Digitales Verticales; una recreación animada y pixelada de la naturaleza o un espejo digital para el jardín vertical "real" situado en el edificio frente a la plaza de MediaLab Prado. Un anochecer periódico como parte de un evento durante el mes de Febrero.